The beauty of press-on nails It's not just how the nail looks or its designs; it's the fact that press-on nails can be reused and fixed without going to the salon. This got many people excited, especially those that don't like to fix their nails for too long; they just go for press-on nails that they can easily fix when going to an event and remove when they come back.
 
The best part is that it can be reused again. Despite press-on nails being an exceptionally wonderful advantage for people, many still find it difficult to reuse their press-on nails. This is because they are unaware of the steps to remove, maintain, and store press-on nails for future use.
Steps to Take When Removing Press-On Nails for Reuse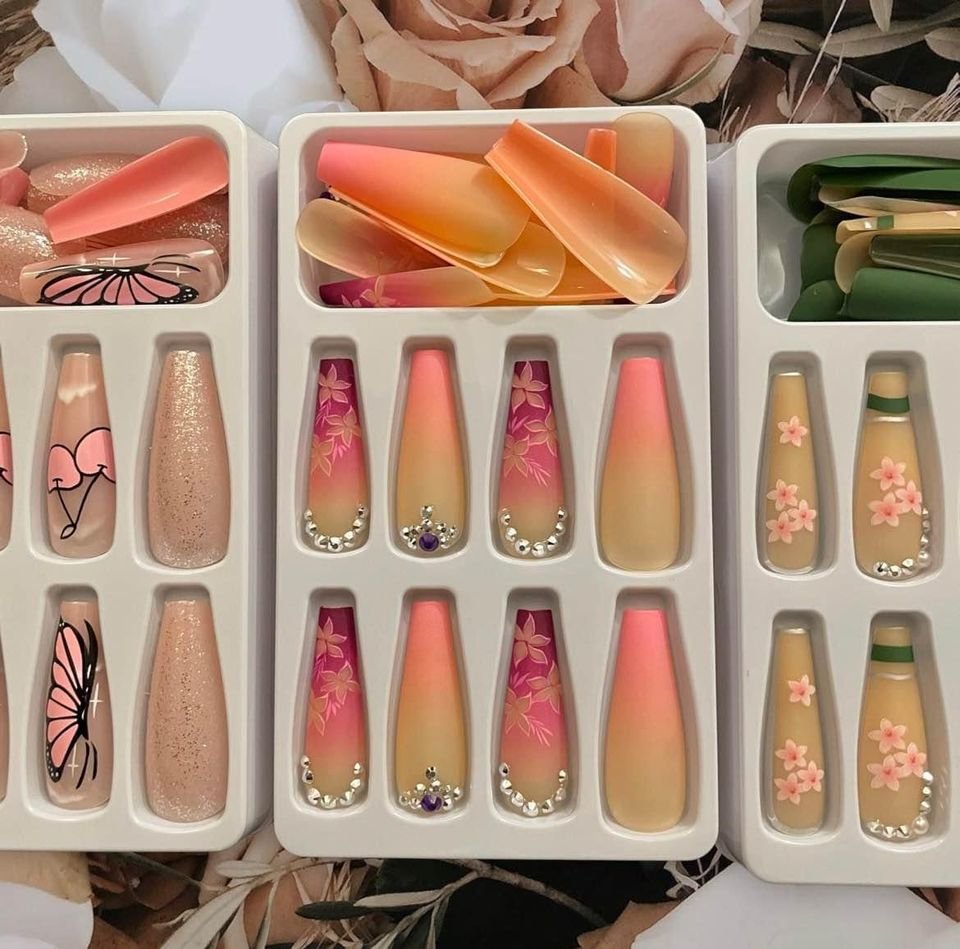 What could be simpler than fixing your press-on nails for an event, returning home, removing them, and then reapplying them when you need to attend another event?

This can only be possible if you know how to reuse press-on nails. To enable you to reuse your press-on nails, there are various steps you need to take when removing them. These steps are:
1. Identify The Type Of Press-On Nail
 
Some press-on nails are adhesive, while others are held on with glue. They differ in how long they last and how they are removed.
 
Adhesive press-on is easier to remove compared to glue; the adhesive is fixed inside the nail like chewing gum and pressed on the fingernails. Adhesives are not as strong as glue and can be removed quickly, while glue is fixed by applying a little glue to the fingernails before pressing on.
2. Soak Nails In Water

Mix together a small amount of soap, oil and warm water. Soak your nails in this mixture for 2-5 minutes, and then you'll be able to gently wiggle the press-on nails off. This works very well for adhesive press-on. Many times, when adhesives are pressed on, you can gently pull them from your nails without soaking them.
3. Soak Nails In Alcohol
Glue can be removed with alcohol, liquid soap, and water. Soak nails in alcohol, liquid soap, and water for 3-10 minutes; this will help to soften the glue. Then, carefully remove the glue from the nails. Don't forget to use a file to smooth the surface of your fingernails to remove glue residue.
How To Store Press-On Nails for Future Use
Avoid storing your press-on nails with glue residue; this will spoil and reduce the life of your press-on nails. You can keep your press-on nails safe for future use by doing the following:
1. Clean The Press-On Nail
When you remove the press-on nails, you take off any glue stuck under the press-on nails because residual hardened glue will make reapplying the press-on nails more difficult since it will prevent the fresh glue from adhering properly.

Soak a cotton pad with rubbing alcohol, and then wipe outside and inside the pressed-on nails. This will help disinfect the press-on nails to make them safe for reuse, after which you can store them in a container so you don't lose them.
2. Store in an Airtight Container
After removing and maintaining press-on nails; you need to be able to keep them properly for future use. So keep them in an airtight container.

For press-on nails where you use adhesive glue, you would want to keep your nails in an airtight container free from dust, as dust particles on the adhesive glue can reduce the effects of the glue when you want to reuse it again. This is very important, if only you didn't soak it before removing it.
How to Re-Use Press On Nails
After removing the press-on nails you used for an event and you are planning on using them again for a friend's wedding party or any other event of your choice, all you need to do is retrieve the press-on nails from the airtight container in which they were stored. After that;
Nail prep is a very important step many women ignore. This step helps to keep the nails firm to your fingernails, so before you fix that press-on, prep your nails. If you plan on using the previous adhesive glue, gently file your natural nails and begin to press the press-on nails on your fingers according to their size. If you don't, gently peel off the first adhesive glue and apply a new one to the press-on nails before pressing them down to your natural nails.

And if you are using glue, just apply a little glue to your fingernails and press the press-on nails onto it. This process isn't time-consuming; after fixing your nails, you can still remove and store them.
Do not forget to add a top coat to your press-on after you fix it, this adds more beauty to the nails.

Press-on nails are trendy for lots of reasons these days; One of the benefits of pressing nails includes
It is very easy to fix and remove.
Another reason why press-on nails are trendy is that they can be used and reused, and this has helped many women who find it uncomfortable to fix their nails for a long period of time.
Instead of spending so much time in the salon fixing acrylic or polygel nails, it's simple to go with press-on nails that you can fix and reuse whenever you want. You just need to follow these steps on how to properly fix, remove, maintain and store your press-on nails for future use.