Getting a manicure is a perfect way to revive your skin and let it breathe again whether we go to salons or do it ourselves. However, regular visits to the nail salon can be pricey and time-consuming that's why high-profile brands like Glamnetic and Static are giving us trendy nail designs in a variety of shapes and sizes.
Glamnetic vs Static Nails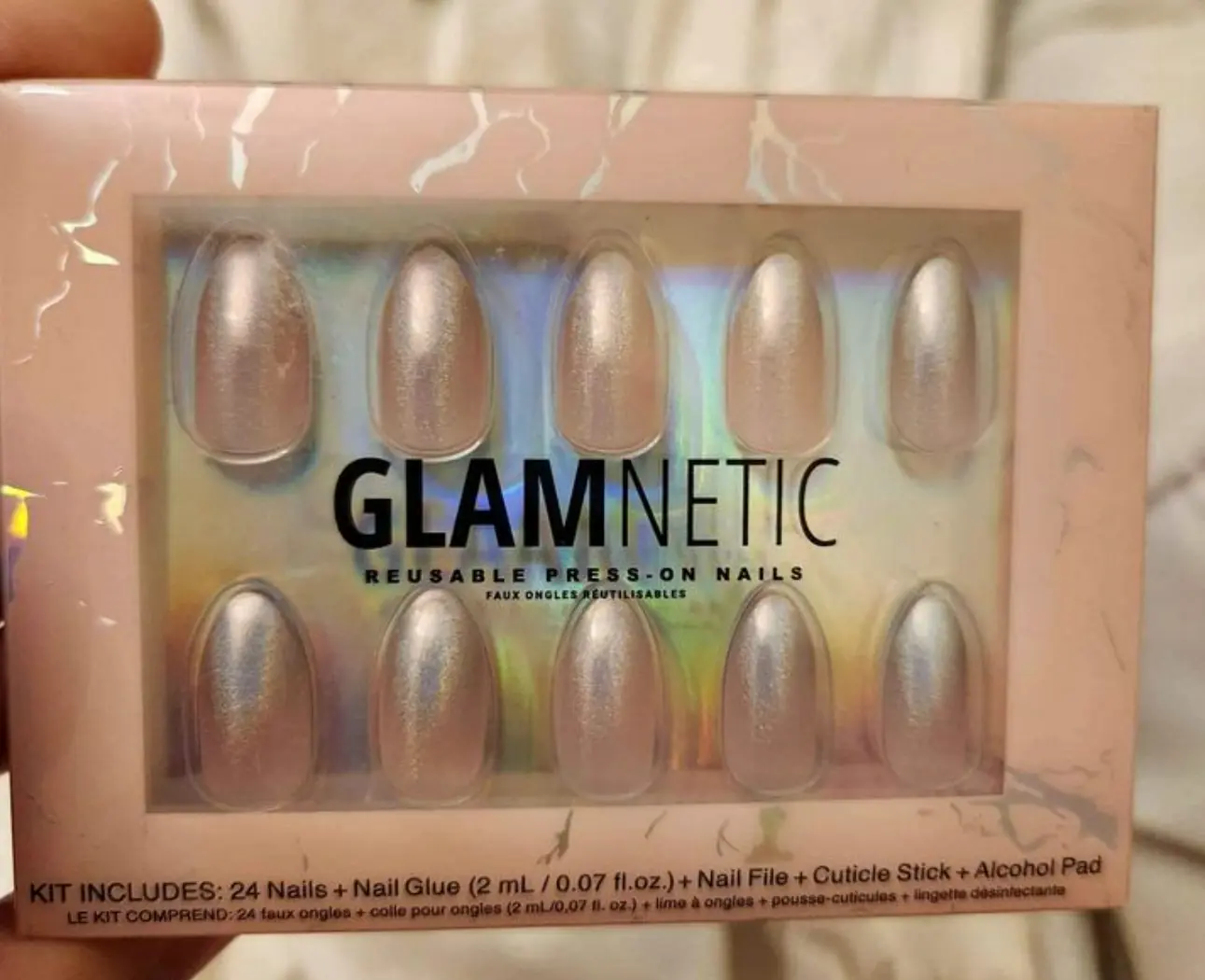 Glamnetic nails are budget-friendly and a perfect alternative to a trip to the nail salon. The nails come with 24-30+ nail sizes, a cuticle stick, a nail file, an alcohol pad, and nail glue. Depending on your lifestyle, these nails can last up to two weeks and they range in price from $15 to $22.
Like Glamnetic nails, Static nails are press-on nail sets and are everyone's favorite option for a DIY manicure. Whether you prefer something bold and colorful or something timeless and neutral, there are plenty of cute options to choose from with Static nails.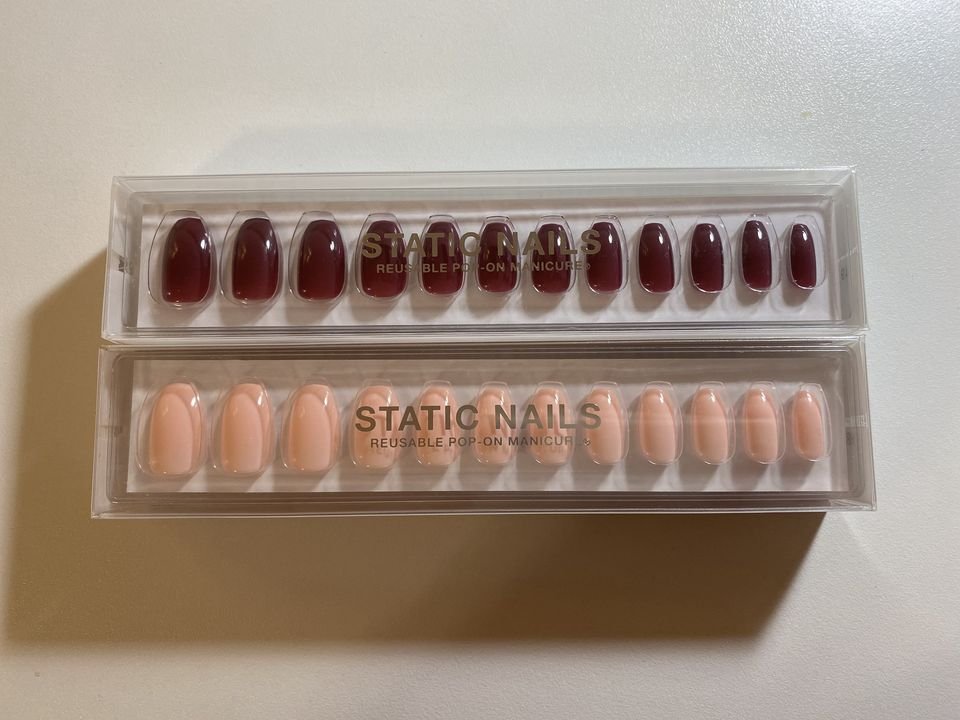 If you are trying to avoid gel manicures, are too busy for salon appointments, or are budgeting, Static nails patent pending lacquer is 8-free meaning it's eliminated eight toxic ingredients used in many polishes and lasts three times as long as a regular manicure. The nails can be worn for weeks straight or removed/reapplied at your leisure.
The glue takes time to dissolve so it won't damage your nails. The best part is they come in a variety of colors and designs in trend-right stiletto and round shapes that make them look fit.
We're partial towards Glamnetic and it's not just us! These nails have gained recognition and popularity among Amazon customers as well! With the highest ratings on Amazon, Glamnetic nails have clearly won the hearts of many satisfied customers. Their quality, ease of use, and stylish designs have made them a go-to choice for those seeking stunning and hassle-free manicures.
Our Favorite: Glamnetic Press On Nails – Ma Damn | French Tip Nails
If you're having trouble deciding which Glamnetic Press On Nails to choose, you can never go wrong with the timeless and elegant Ma Damn French Tip Nails. French tips are a classic choice that exudes sophistication and is suitable for various occasions and outfits. These nails offer a clean and polished look, making them a staple in the world of nail fashion.
Let's get into more details!
Glamnetic vs Static Nails: How Long Do They Last?
Glamnetic nails can last up to two weeks depending on your lifestyle and application method. Static nails can last up to 18 days.
However, if you want it to let for a few hours, you can apply a thin strip of nail glue from your cuticle to the tip of your nail. If you want it to last longer, apply more glue to keep the nails on for as long as possible.
Glamnetic vs Static Nails: Are They Reusable?
Glamnetic nails can be reusable for up to 3 weeks per wear. It can be trimmed, filed, or polished to your liking.
On the other hand, Static nails can be re-used up to six times. The best part of it is that the nails are non-damaging to natural nails, meaning they can be customized without damaging the original design.
Glamnetic vs Static Nails: How to Apply
If you are a beginner, don't fret! Just follow these few steps on how to apply your Glamnetic or Static nails.
Glamnetic Nails
Step One: Gather Your Supplies. 
Some of these items will come with your Glamnetic press-on nails. They include;
1. Cuticle stick and cuticle oil: This will help clean up and hydrate your cuticles.
2. Nail file and nail buffer: To smoothen out edges and prep the nail surface.
3. Exfoliant: To remove dead skin on your hands.
4. Alcohol prep pad or acetone: To clean off dust and specks of dirt from your nails.
5. Glamnetic press-on nails: They come in stiletto, almond, or gel nail art. All you need to do is to pick your favorite.
6. Nail glue: To adhere the press-on nails to your natural nails.
Step Two: File and Buff
Next, grab your nail file and file down your natural nails to your desired length. Ensure you smooth away any rough edges or ridges.
Then buff the top of your nail plate using your nail buffer to remove natural shine. Buffing will help the glue and press-on nail stay on longer.
Step Three: Apply Press-on Nails
Lay your press-on nails out in front of you in the order in which you will apply them; from the thumbnail to the pinky fingernail. Then apply a thin layer of glue to your fingernail and the press-on nail, and lay the faux nail onto your natural nail.
For best results, hold down for ten seconds. Then continue the process on each fingernail.
Step Four: Hydrate Your Hands
Now that your nails are applied, apply cuticle cream to your cuticles and hand cream to your hands to leave your hands velvety soft, and smooth.
Static Nails
Step One: Gather Your Supplies
Some items that will come with your Static nails include;
24 individual Static Nails in a variety of sizes
Non-damaging nail glue
Nail file
Nail buffer
Step Two: Prep Your Natural Nails
First off, file and buff your natural nails to make sure they are clean of any previous polish. Next, remove any kind of oil on the nails as well simply by using acetone.
Step Three: Choose Your Size and Add Nail Glue
Test out the sizing of the nails next by placing each pop-on nail on your natural nail to see which size will fit each one best. After that, line them up in order so you don't get confused about which ones go where.
Once you've sorted out your sizing, you'll be ready to move on to glue the nails in place. Next, add your nail glue depending on how long you'll want to leave the nails on. Then shape and file to your desired length.
Step Four: Hydrate Your Hands
Now that your nails are applied, apply cuticle cream to your cuticles and moisturize your hands.
You might want to check out: Dipwell vs Nailboo: Which is Better?