You can appear more attractive and polished by getting a good manicure. The wide range of nail polish options in the market often overwhelms people.
It might be confusing to determine which nail polish to buying because there are so many different brands. There is always one brand that, over time, provides you with the ideal salon experience, quality, and, most importantly, chip-free or barely noticeable chipping.
Olive and June vs. OPI
Olive and June
In order to honor both her grandmother and great-grandmother Sarah Gibson Tuttle, who relocated from New York to Los Angeles and couldn't find the "ideal" manicure salon, so she built one. Sarah Gibson Tuttle founded the user-friendly nail care company, Olive and June.
Olive and June is made in Korea with a greater resin concentration, increasing its durability. Olive and June is a salon-quality nail polish that was created without the usual components. A new collection of shades are seasonally released.
The Olive And June Mani Kit comes with the following supplies: Polish, Top coat, Cuticle serum, Nail file, Nail polish remover container, Poppy polish handle, Clean up brush, Nail cutters, and Buffer. It is now simpler to do your own DIY manicure in the convenience of your own home thanks to the addition of these supplies and instructions.
OPI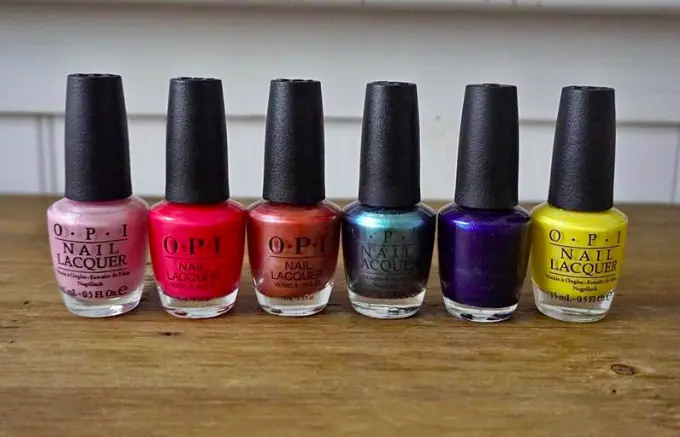 Originally, this company sold dentistry supplies before switching to lacquers and nail care items in 1988. They are renowned for consistently providing a magnificent selection of colors that have durable wear and don't chip quickly.
The ingredients of OPI are listed on the bottle, and the brand has received a better health safety rating from the Environmental Working Group (EWG). The two main polishes offered by OPI are traditional nail lacquer and the infinite shine long-wear nail polish.
The formulation of traditional nail lacquer dries quickly, is simple to use, and can last up to 7 days.
The infinite shine long-wear nail polish is fantastic if you need long-lasting nails. Last for up to 11 days.
OPI is significantly less harmful to your nails and lasts much longer than gel, but it still gives the strength and durability of a gel.
Olive and June vs OPI: Pros and Cons
Both nail polish and lacquer brands are excellent, but to make it simple for you to select the ideal one, there are benefits and drawbacks to each. Among them are:
Pros
Free of harsh chemicals
OPI is 3-free. It's free of the three harshest chemicals; Toluene, Formaldehyde, and DPB. Olive and June, on the other hand, are 7-free. They are free of Ethyl Tosylamide, Camphor, Dibutyl phthalate, toluene, Formaldehyde resin, and Xylene.
Good brushes from OPI make the application simple. The finish produced by the brush is flawless.
Olive and June have good, really wide brushes that make application simple.
Long lasting
OPI nail lacquer has a long wear time of up to 3 weeks with little chipping.
Other pros includes;
Olive & June's initial application lasts longer for five days without chipping.
Color selection
Olive and June can pick from a selection of shades. Great main colors include Peach-pink EC, Vivid red MR, and Harmonious beige MM.
Regarding components, Olive and June have one of the better recipes. The system is also convenient. This means you can paint your nails when it's best for you.
Cons
The first layer of Olive and June's polish is a little bit sheer. A second coat and top coat increase the polish's sheen.
Darker OPI colors fade more quickly than lighter ones.
After shaking the lacquer, there have been complaints of bubbles appearing, which may alter when the bubble is applied.
Extremely broad brushes that could be too big for smaller nail beds.
Olive and June take patience waiting for dry time and don't last as long as other nail polishes.
How To Apply Olive and June and OPI: Dos and Donts
Giving your nails the excellent care and attention they need will go a long way toward enhancing your appearance, but there are also dos and don'ts when it comes to applying nail polish and taking care of your nails.
Although it is true that "too much of anything is terrible," going all out to get your nails on fleek isn't that bad. If you use any nail products, follow these suggestions for better skin care.
Use a quality nail remover that can get rid of everything without damaging your cuticles or nails.
Keep your cuticles and nails moisturized.
Apply nail polish sparingly. If you add too much, your nails will seem unkempt and may as well be a mess.
Rest your nails for a while. at least a week must pass before the subsequent application.
Allow two minutes for each application to dry in between.
Apply extremely thin coats of paint.
Apply cuticle oil.
Others includes;
Replace and clean your tools.
Use acetone-free nail polish remover instead. Use the nail-removal pot instead. When trying to remove nail polish, the nail polish remover pot does it fast, without the need for cotton balls, and without damaging the other nail.
Avoid cutting your cuticles. Doing so increases the risk of infection under your nails.
Apply both the base and top coats. Always adhere to the procedure.
Use just enough nail polish. In your application, use restraint.
Avoid wearing nail polish for too long; according to health experts, the pigment in the polish might dry out the nail's thin outer layers.
Keep your cuticles in check.
Avoid picking at your nails.
Final Thoughts
When choosing a nail polish, it is important to find a product that is easy to apply and long-lasting and made with safe ingredients. This way, you get the best results when you follow professional preparation and application methods.
OPI has fewer potentially harmful ingredients than Olive and June, and its larger handle and brush make it easier to apply. Both brands have many colors to choose from, but OPI tops the list when it comes to the best nail lacquer.
You might want to check out: Dazzle Dry vs. Olive and June: Which is Better?