There are tons of nail polish brands formulated with the best ingredients, but when it comes to non-toxic nail polishes, Dazzle Dry and Olive and June are taking the lead. Let's dive into a little bit about each brand and their uniqueness.
Dazzle Dry vs Olive and June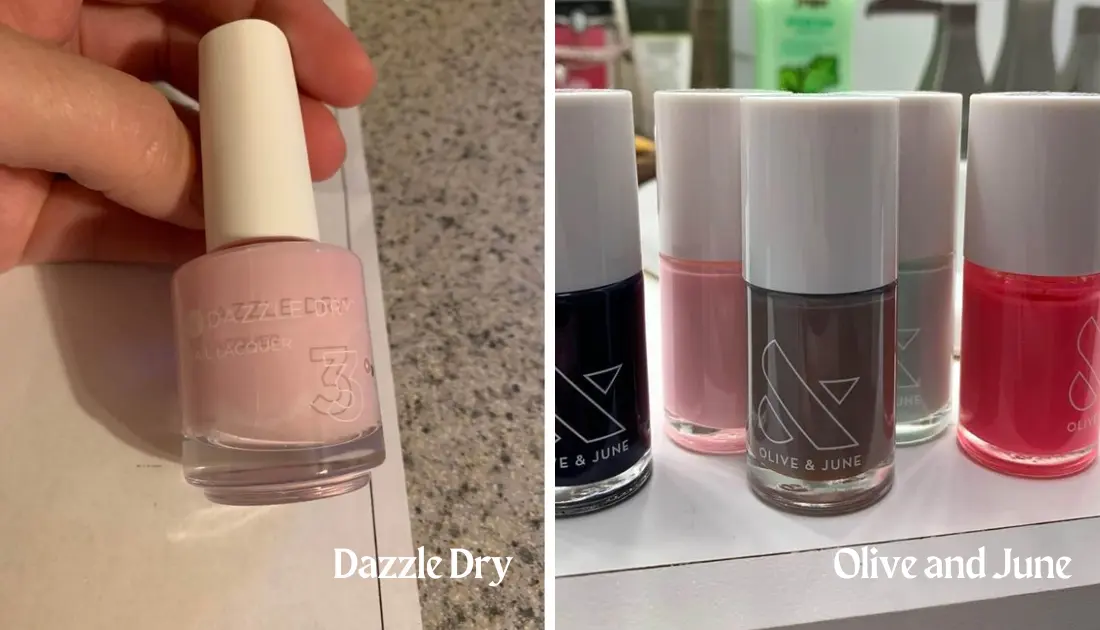 Bio-organic chemist Vivian Valenty develops Dazzle Dry, and it is a healthy gel-alternative four-step nail system. The products are formulated with polymer technology that enables the polish to expand and contract with the nail, which means the polish is long-lasting without doing long-lasting damage. Dazzle Dry is hypoallergenic and formulated without reactive ingredients, animal by-products, or animal testing.
Instead, they are formulated with vegan alternatives. One fascinating thing about Dazzle Dry is that it does not damage your nails, unlike conventional gel polishes that leave your nails damaged and yellow. Instead, it makes your nails stronger.
In contrast, Olive and June are one of the most on-trend brands on the market. It is formulated without the typical nail polish ingredients.
It is also free of benzophenone-1 and benzophenone-3 which some nail polish brands still include. The polish colors are stunning and you can consistently get about 5 days without noticeable chipping.
Dazzle Dry vs Olive and June: Pros and Cons
Dazzle Dry
It has an effective system. The system is unbeatable, plus you have to use the entire system to achieve quick-drying and long-lasting results.
The dry time is almost non-existent, meaning it makes the application process so easy.
It is long-lasting. You can easily get 10-14 days of chip-free wear.
Dazzle dry is incredibly easy to apply because the system works so seamlessly.
Dazzle Dry has tons of options which makes it easy to choose any polish color of your choice.
Cons
It is expensive.
The polish tends to "shrink" on the nail.
Color swatches on the website can be deceiving.
Olive and June
Pros
Good customer experience i.e. the branding, website, packaging, and helpful instruction.
It is a complete system. It offers everything you need to pull off a quality home manicure.
Beautiful polish formula. It is too thick. Not too thin and goes on without streaking.
There are beautiful polish colors to choose from. Each of which has high-quality color saturation.
It offers a decent wear of approximately 5 days.
It has a competitive price.
It is easy to take off with non-acetone.
It has a safe formula.
Cons
Olive and June is not like gel.
It has a slow drying time.
Dazzle dry vs. Olive and June: Which System Lasts Longer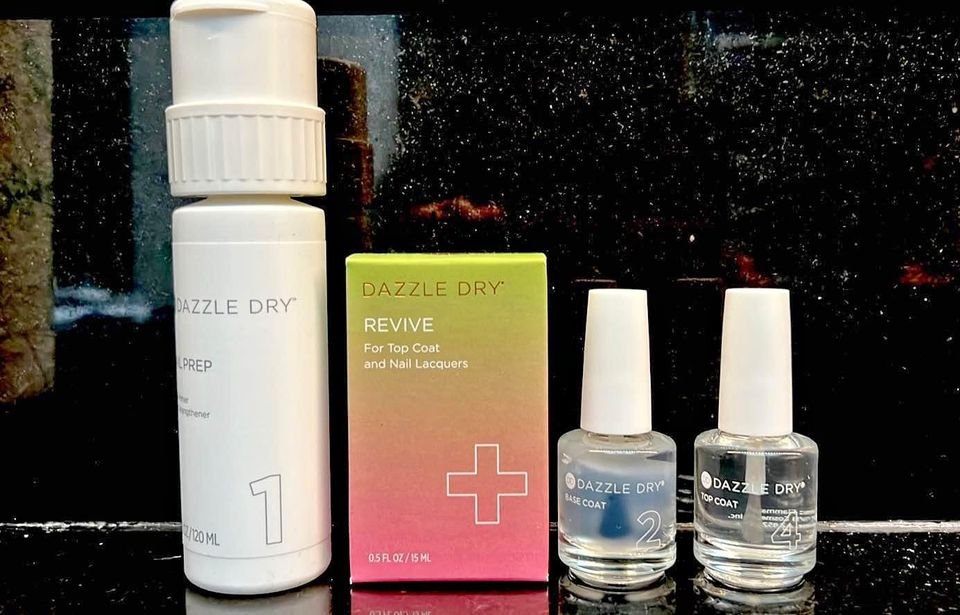 Generally, Dazzle dry lasts up to 10-14 days. If you follow the 4-step system and instructions for dazzle dry, it can last a long time.
Another fascinating thing about Dazzle and dry is that it takes about five minutes to dry and you do not need a special light of any kind. While olive and June manicures last chip-free for about 5 days and take approximately 2 hours to dry.
You might want to check out: How Long Does a Manicure Last?
Dazzle Dry vs. Olive and June: Which System Offers The Best Nail Polish?
Both systems offer the best polish colors. For Dazzle Dry, there are so many colors to choose from, 150 to be precise. Most of the colors include; Red hot chili, Mind your mani, Starstruck, Perfectly Plaid, Less is mauve, Midnight express, Anticipation, Space lemon, Broadway beige, and Casablanca.
For olive and June, some of the colors include; Lippy, Sagey, Southwest, Cateve, Howdy, Koala, Swan, Minty, Picante, Nuance, and many more.
You might want to check out: How Long Does it Take For Nail Polish To Dry
Dazzle Dry vs. Olive and June: Which System Is Better?
Dazzle dry hands down is a lot better than Olive and June. The fact is that it dries quickly meaning you can move on from your manicure and get busy doing other things in 10 minutes or less.
| | |
| --- | --- |
| Dazzle Dry | Olive and June |
| Faster drying | Slower Drying |
| The whole system is a must | The whole System is a must |
| Good color options | Better color options |
| More steps in applying | Easier to apply |
| Same total time | Same total time |
| Chips in little flakes | Chips in big flakes |
| Stays shiny | Lost shine faster |