Every person wants to stand out, especially when they are out; you want your dress to complement your bag and shoes, and many people also want their makeup and nails to complement their clothing. Consider going on a date in a red dress and wearing nail polish that contrasts with your red dress; this can generate an unflattering appearance.
Red is a very bright, vibrant, passionate, and romantic colour that can really help to make your whole appearance shine when matched with other colours, which is why it is important for your nail polish to complement your clothing. Knowing and wearing nail polish that matches your red dress might help you attract attention.
Nail Colors That Go Well With A Red Dress And Why
Because they blend in well, neutral nail polish colors are the safest to wear with everything. These hues include white, cream, black, beige, brown, nude, navy, grey, and light pink. Neutral colors are harmonious colors that will go nicely with your clothing but do not have to match your shoe color.
Neutral colors can also be used to create a great complement with a red dress. This is why matching your nail polish to your clothing is essential.
Here is why these colors go well with a red dress:
1. White Nail Colour
White is the most commonly used color; pairing white nails with a red dress helps establish equilibrium. White nails work well with any red attire if you're wearing black shoes and black accessories. The vibrancy of red when combined with white nails creates a classic, clean, brilliant, and timeless aesthetic.
Recommended White Nail Polish: Sally Hansen Xtreme Wear Nail Polish, Streak-Free, Shiny Finish
2. Nude Nail Colour
The combination of red and white is also highly appealing since the colors complement each other and make the wearer appear more lively and alive. Many people underestimate the significance of nail polish in complementing their outfits. A beautiful red dress with nude nails creates a subtle contrast, calling attention to the wearer.
Recommended Nude Nail Polish: SHOYUM Jelly Nude Gel Nail Polish Set
3. Beige Nail Colour
The combination of a red dress with beige polished nails creates a warm, welcoming appeal. Beige is a neutral hue that softens the intensity of red while still enabling it to make you stand out.
Recommended Beige Nail Polish: Essie expressie, Quick-Dry Nail Polish
4. Black Nail Colour
Just as white goes with everything, black goes with everything. In fact, black is the best color to mix with any loud color. Red and black are a terrific combo because they produce a powerful appearance and make you look more bold and dramatic in a positive manner. The colors contrast sharply, with red's vitality contrasted against black's gloom. The two hues also complement each other because black is known for bringing out the beauty of the color next to it.
Recommended: Morily 24Pcs Black Press on Nails Stiletto Fake Nails
5. Pink Nail Colour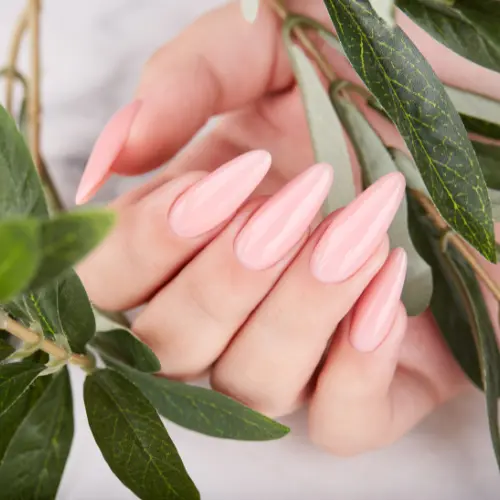 Pink-polished nails on a red dress look amazing because they provide a lively, feminine, and romantic appeal. The two colors work well together, creating a striking and eye-catching effect. This combo is best for females who love pink a lot.
Aside from natural colors, a red dress will complement gold and silver nails. When you want to make a statement or seem dazzling, metallic and glitter nail lacquers are great.
Recommended: Chalk Baby Pink Press on Nails Medium Almond Stiletto
6. Red Nail Colour
Red and gold may be used in practically every design style, from contemporary to vintage. Because gold and red are regal colours, they will make you stand out. Your red dress and gold nails are a wonderful combo for any event.
Recommended: Morily 24Pcs Wine Red Press on Nails 
7. Silver Nail Colour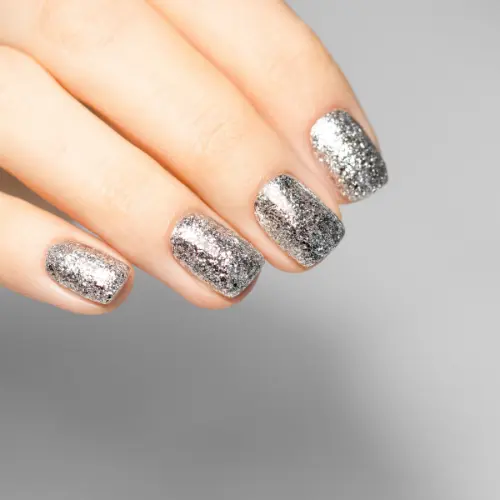 Silver nails, just like gold, also bring a crimson outfit to life by adding the necessary gilt. So if you are planning on dazzling your date, go with a red dress and silver nails and jewelry.
Our Favorite: iMABC Silver Punk Metallic Press On False Nails
Will Red-Polish Nails Go Well With A Red Dress?
Red nails are always a terrific choice to complement a red dress, especially if the nails have a touch of gold polish or stones. Red creates a warm, romantic appearance that is ideal for special events, but wearing plain red nail polish with red nails is not recommended. Because wearing a red dress with red nail polish will make your overall ensemble appear simple and dull, it transforms your look into something more casual.
If your red dress is a deep, dark shade, you might want to choose a red nail polish that is a bit lighter or brighter to add some contrast. On the other hand, if your red dress is a lighter, brighter shade, you might want to choose a red nail polish that is a bit darker or more muted to create a cohesive look.
Nail Fashion Rules for Red Dresses
There are several guidelines to observe when wearing a red dress, and they are as follows:
1. If you're going to wear a red dress, avoid getting red nails, especially if you're going to wear red lipstick.
2. If you're wearing the dress for an evening out, black nail polish is the finest choice. You can go for white or cream nails for the day.
3. Unless you're going to a Christmas party, don't wear a red dress with green nail polish!
Conclusion
Any neutral color may look fantastic paired with a red dress, whether you're getting ready for a dinner date, a party, a  wedding, or any other informal event because the colors can create a dynamic complement.