Winter is here, and the nails get dull and unattractive. The dryness and coldness in the air get even the healthiest of nails. Nail designs are a great way to enhance your beauty. Winter nails are perfect for winter months (December, January, and February).
Asides from taking healthy care of your nails, you can enhance their looks with the latest nail designs.
We've put together 50 different winter-themed nail designs that you can try. They range from simple to intricate and are perfect for any occasion.
Beautiful Winter Nail Ideas and Colors
Whether going to a Christmas party or staying home and binge-watching your favorite show, you can try any of these designs.
1. Early Winter Nails
Embrace the ethereal beauty of winter with this enchanting Pearl Frost nail design. These exquisite nails shimmer with delicate pearls arranged in intricate patterns, resembling the delicate snowflakes that dance through the frosty air. The soft, cool tones of winter are captured in a captivating palette of icy whites and shimmering silvers, creating a mesmerizing effect that will leave you breathless.
2. December Winter Nails
Step into a winter wonderland with these Green December Winter Nails adorned with enchanting winter designs. Immerse yourself in the lush green hues reminiscent of evergreen trees, evoking a sense of natural beauty and holiday cheer.
Each nail is meticulously crafted with delicate snowflakes, snow-covered branches, and shimmering ornaments, capturing the spirit of the season. You can get these in any color of your choice! I'd say go red and gold if you want a more festive look.
3. January Winter Nails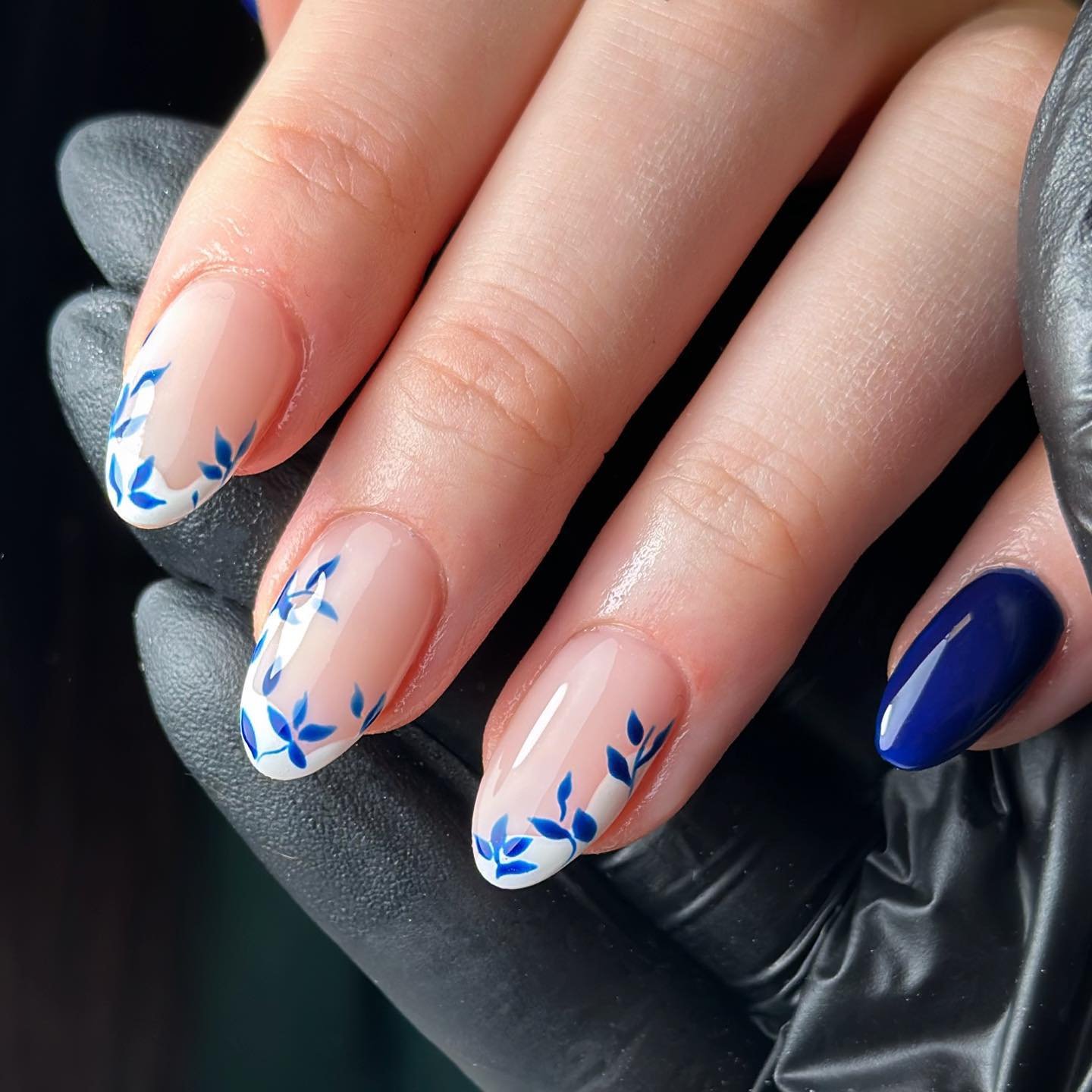 Indulge in the serene beauty of January Winter Nails, where nude elegance meets deep blues and delicate flowery details. No better way to welcome the tranquillity of the winter season than with captivating nail designs that seamlessly blend soft nude shades, reminiscent of freshly fallen snow, with cool, enchanting blues that mirror the frost-kissed landscapes. Delicate floral accents add a touch of whimsy, bringing a hint of springtime anticipation amidst the winter chill.
4. February Winter Nails
Deep red hues are perfect for February months. Make a bold statement Oxblood Winter Nails. Dive into the depths of winter with the rich, sultry allure of oxblood, a deep, luscious hue that exudes confidence and elegance.
Deep red nails not only create a striking contrast against the frosty landscapes, but they're also a perfect choice for the romantic Valentine's season.
Nude nails with heart shapes are also a fabulous choice for February if you desire a touch of design. The subtle allure of nude hues provides a versatile backdrop, while the charming heart shapes add a playful and heartfelt accent.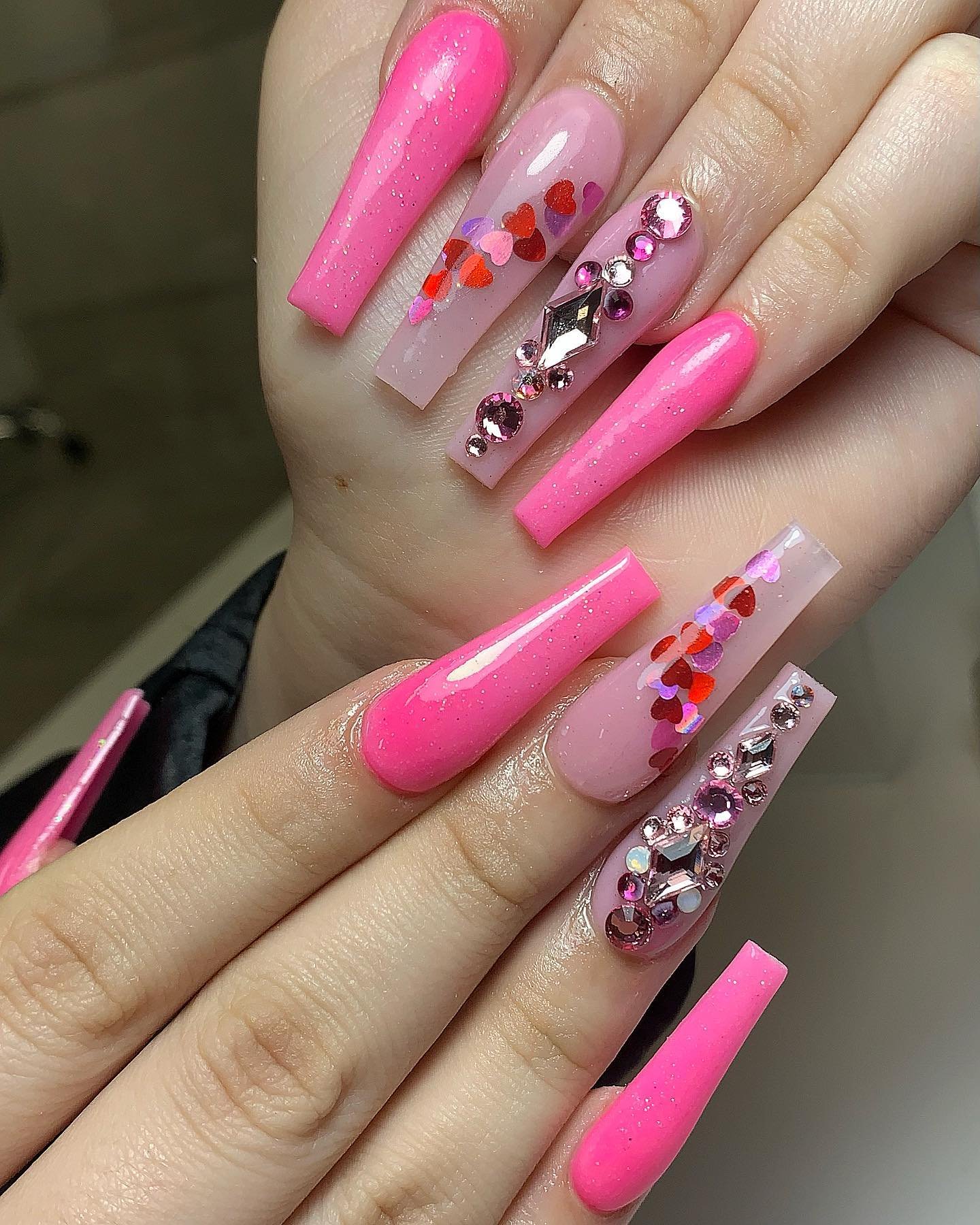 If you're looking to go all out in February, we recommend this stunning pink nail design by @elisagalilea_nails.
5. Early March Nails
Welcome the arrival of early March, where winter bids farewell and the vibrant hues of spring beckon, with this alluring Purple Swirl Nails. Set against a sophisticated nude background, these nails exude a sense of understated elegance.
The swirling patterns in mesmerizing shades of purple dance gracefully, hinting at the energy of the upcoming season. To add a touch of opulence, delicate gold hues adorn the design, casting a warm and radiant glow.
6. Pink Nail Design
By madam_glam
This pink nail is beautiful and easy to recreate. Plus, you don't have to worry about getting many different colors of nail polish.
7. Blue Nail
By dmnails.77
Blue nail art is perfect for any season, but the coolness of blue makes it great for colder months. One advantage is that they don't quickly get messy. To DIY, you only need a blue color palette and a thin brush to apply. You can use white nail polish and a toothpick dipped in blue nail polish to create the swirl effect.
8. White Nail
White nail designs are always great for winter due to their clean and elegant look. The color is bright and will add some life to your hands.
9. Peach Nail
Peach nails give a fresh and cheerful look during the cold and icy months. To recreate, you would need a peach color palette and colorful glitters. I would wear this nail design in February/March in anticipation of summer!
10. Black Nail
Black nails are lovely and simple for the winter season. Indeed, black is beautiful! They don't get stained quickly, so you don't have to worry about your nails throughout the season.
11. Orange Tip Nail
Try out this orange tip nail design to keep your nails looking fresh, trendy, and eye-catching this season. You wouldn't want to miss out on the significance of orange, which includes enthusiasm, joy and strength.
12. Rainbow Nail
By vmae_nails
A mix of these rainbow colors and glitter polish brings out the holiday spirit of the winter seasons. Who's ready to have fun?
13. Red Velvet Nail
Red velvet is another significant color for winter. It's festive and fun. This nail design is perfect for December and early January.
14. Marshmallow Nail
Marshmallows are significant during winter for their fluffy texture. This nail art is superb and adds a touch of fun to their nails.
15. Chocolate Swirl Nail
By nailsxflower
For a delicious and decadent nail art design, try this chocolate swirl nail. This nail art is perfect for those who want to add a touch of sweetness to their nails.
16. Black and White Nails
If you want something that is both stylish and sophisticated this winter season, then try this black and white design. This nail art adds a touch of class to nails.
17. Butterfly Nail
By cdanails
How cute is this?! This design is perfect for those who want something that is both feminine and stylish. Butterfly nails are perfect for adding a touch of elegance to your nails
18. Disco Nail
By nails.icure
It may be challenging to party at this time of the year when darkness falls at four. This is a chance to enjoy a disco, having adored your nails with this glittering touch of colors.
19. Brown Nail
By nailsalonwiz
For a classic winter nail design, then brown is the perfect shade. It's neutral and goes with everything, plus it's ideal for those who don't like to wear too much color on their nails.
20. Gold Glitter Nail
By didisnail
TBH, all that glitters is gold, LOL. Gold is a chic and elegant color and looks amazing on nails. It's perfect for those who want to add glamour to their look.
21. Tortoise Shell Nail
By gelxbybre
Tortoiseshell nails is a classic design that always looks chic. If you want a more unique nail design in winter, go for this tortoiseshell print.
22. Blue Sky Nail
It's just so exciting looking up to the sky this season, only to look down to see a replica of the sky on your fingers. This will definitely put a smile on your face.
23. Enchanted Forest Nail
By niki21.insta
This design features a mystical forest scene, perfect for wintertime. The deep green hue is accented with sparkling white details.
24. Very Peri Nail
While very peri is the pantone colour of this year, it also brightens up your fingers during this winter season. It's also great for people that don't fancy eye-catching colours.
25. Motif Nail Design
This is one of the most popular trends in winter nails. You can go for a simple design like these flowers or you can get more complex with your design. You may also want to add some rhinestones to your nails for extra sparkle.
26. Gold and Black Ombre Nail
By bossbeautyuk
Other than having glitters all over your nails, gold and black ombre glitter also gives a cheerful look this season. To recreate, keep in mind that the glitters are thicker at the tip of the nails.
27. Sparkly Silver Nail
By nailedbyyans
You can also go for a more subdued look by painting your nails in a sparkly silver color. This is a great choice if you want to wear your nails to a formal event.
28. Nude Nail
Nude nails are perfect for winter as they look chic. Depending on your preference, you can either go for a light shade or a dark shade.
29. Ice Dream Nail
By baybabyval
Winter is an icy season, and this simple ice nail will fit in perfectly for the season.
30. Christmas Nail
By jenny.nailsd
This Christmas nail design adds a touch of holiday cheer to your look. The design is festive and will definitely put you in the holiday spirit.
31. Reindeer Nail
By nailsmyth
A mix of this purple and pink reindeer nail art gives a refreshing feel of Christmas.
32. Polka Dot Nail
This polka-dotted nail looks unique with the whole green and red dotted colors. They also fill in to give the Christmas vibes, as you may not really be free to re-do your nails on Christmas day.
33. Silver Holo Glitters Nail
By hiranails17
Who doesn't love glitter? Silver holo glitter nails are perfect for any occasion, whether you're going to a party or just want to add some sparkle to your nails.
34. Sweater Nail
By _breesnails
This design is perfect for those who want to rock a gothic look this winter. The base color is a deep, dark brown with sweater accents.
35. Stellar Nail
Who wouldn't want to have a celestial look this winter! This nail design gives a fulfilling winter vibe that everyone would love to have. It's not complicated to recreate and wouldn't take much of your time.
36. Black Tip Nail
By _gnailsss
Painting a black-tip nail may not seem eye-catchy for some people. However, they are adorable and a good fit for winter periods.
37. Winter Pingu Nail
Penguins are quite elegant. Painting them on your nails during winter adds a touch of glamour on your nails.
38. Grey Nail
Gray is another great neutral shade that works well for winter. It gives a sophisticated look and goes with just about every outfit.
39. Nude and White Glitter Nail
This design is all about glitter! It features a shiny nude base with sparkly silver and white accents.
40. Polar Bear Nail Art
What is winter without a polar bear? Polar bear nails look exceptionally beautiful.
41. Frosty Snow Nail
By jenny.nailsd
This design is cool and icy! It features a light blue base with white accents that look like icicles.
42. Purple Nail
For haters of multi-color shades of nails, painting a purple-only shade looks great.
43. Geometric Nail
Swirly nails may have run a good race last year, however, they will have to give space to accommodate this gorgeous geometric nail art. To combine other color shades, I recommend using colors that match so they don't look all rowdy.
44. Burgundy Nail
By jbepolished
Burgundy is another great color for winter. It's rich, deep and looks amazing
45. Winter Wonderland Nail
By yazzy.nails
The beauty of a winter wonderland inspires this design. It features a sparkling silver snowflake and reindeer on a light blue background.
46. Snowman Nail
Make everyone around you blue in envy when you show up with this snowman nail design ready for the winter season.
47. Green and White Swirl Nail
Green nails are cute but, adding a white swirl takes your green nails from cute to fantastic. That's the energy we are bringing in for winter 2022.
48. Doughnut Nail
By dre.s.nail
Can't make a decision on a particular winter design? Play around with different doughnuts on your nails.
49. Lemon Tip Nail
The lemon tip nail is gorgeous and can go with any outfit this season.
50. Pale Green Tip Nail
You can also go for a more subdued look by painting your nails pale green This is a great choice if you want to wear your nails to a formal event.
51. Gold Chrome Squiggles Nail Art
Pairing a light skin shade with gold chrome squiggles will be great for a cool-looking contrast this winter season.
52. Purple And Blue Nail
By maensilz
Instead of having just one or multiple colors this season, painting two color shades which comprise purple and blue is never a bad idea. It will look amazing as seen.
53. Marble Nail
Nail art for winter doesn't always have to be red, blue and green. Marble nails are often understated during this season, yet they have a great look and can match any outfit.
54. Candy Cane Nail
By adoreaxo
While wearing candy cane nail art, you can match them with your favorite holiday lollipops, cupcakes or other treats.
55. Santa Claus Nail Art
Think about the huge number of comments you'll get when you have this design on your nail for winter. This Santa Claus beard design will go a long way in putting your nails on the gorgeous list.