If you are tired of taking long trips to the salon to do your nails and aren't ready to invest in a gel nail kit with a lamp to do it at home then you should try the Sally Hansen Miracle Gel. It is a very convenient alternative to a salon manicure.
It's a shiny, durable, chip-resistant nail polish with a special top coat that doesn't require a UV lamp. You can wear it for more than a week and it will still look new.
What is Sally Hansen Miracle Gel?
Sally Hansen is a famous brand of nail products that was founded in 1946. The company manufactures a large range of nail care, including the bestselling cuticle remover and one of the oldest lines of nail polishes on the market called "Hard As Nails". Sally Hansen's top-selling and most talked-about product is its gel-like 2-step non-UV nail polish named Sally Hansen Miracle Gel.
Sally Hansen Miracle Gel also known as gel-like nail polish is a no-light gel polish. It's a very convenient new-generation nail polish that doesn't require curing with a UV/LED lamp.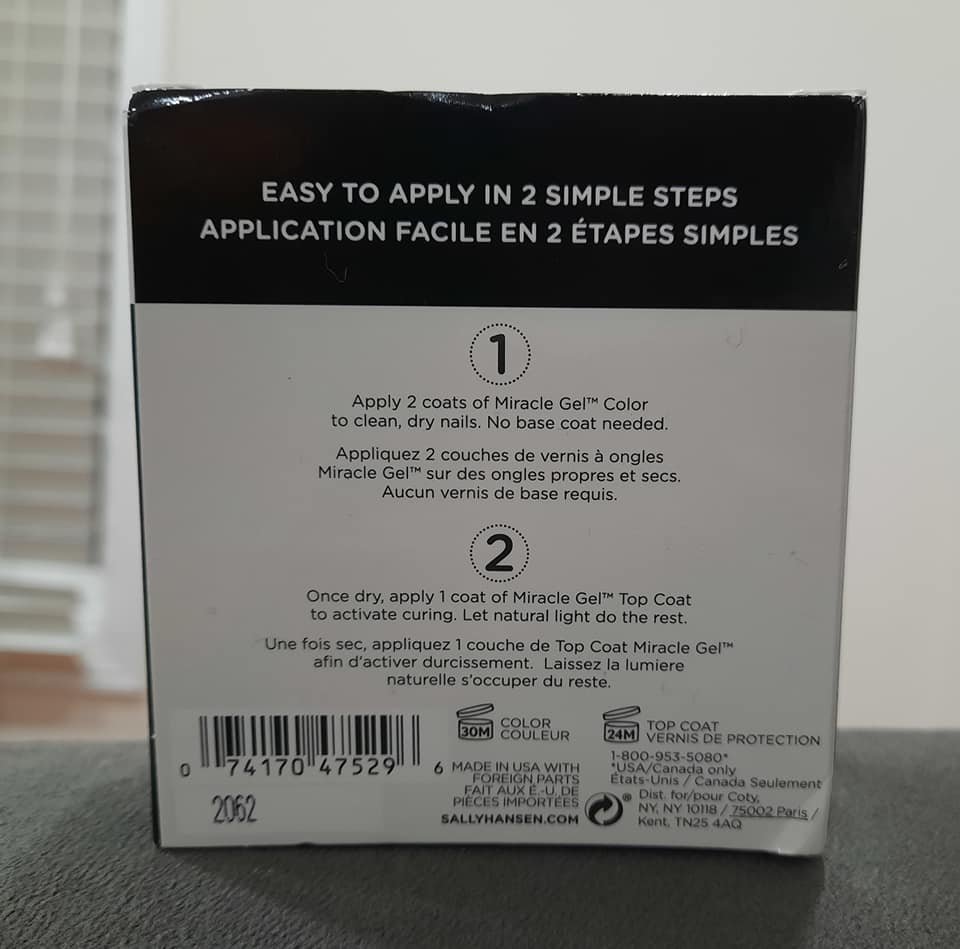 So it's like a cross between a regular polish and a gel one. It is a shinier, more durable, healthier, and easier-to-use alternative to traditional gel nail polishes.
However, the Sally Hansen miracle gel is also similar to regular polish because it doesn't need a UV/LED nail lamp to get cured. It just simply air dries and hardens under the natural UV rays from the sun.
What We Love About Sally Hansen Miracle Gel
1. Colors
Sally Hansen Miracle Gel collection has a lot of shades for you to choose from. There are 30 colors in the Miracle Gel collection.
So you can pick one suitable for any occasion, outfit, time of day, or season. Or probably a color that you like the most or that suits your personality or mood the best.
2. Longevity
Sally Hansen Miracle Gel is more long-lasting than regular nail polish. With proper application and wear it can last up to a week.
3. Non-toxic, Vegan and Cruelty-free
Sally Hansen Miracle Gel is non-toxic. It is free of the most toxic substances that are not welcome in cosmetics. Such as Formaldehyde, the Toxic Trio, etc.
It is also vegan and doesn't contain any animal-derived ingredients. The polish is never tested on animals either, so it's also cruelty-free.
How Long Does Sally Hansen Miracle Gel Take to Dry
A thin coat of Sally Hansen Miracle gel takes about 5 minutes to dry without the LED light nail dryer. Thicker coats may take longer to dry. The bright side is that it does look fancy as it would if you got it at a salon.
The Sally Hansen Miracle Gel polish formula is creamy in consistency and not sticky. It applies evenly to your nails meaning there are no patchy or streaky areas when it is applied the first day and up to 10 days after.
You might want to check out: OPI Nail Polish: How Long Does it Take to Fully Dry?
How Do You Know When Sally Hansen Miracle Gel Is Dry?
Sally Hansen Miracle Gel top coat contains a photo-initiator component that cures the finish when it's exposed to UV light. To know when it's dry, gently touch the top of your nail with your finger.
You should be able to feel whether the paint is still moist, damp, or completely dry. Even after your nails feel dry, be careful not to bump or scrape them, as there may still be wet areas of your nail.
To keep your manicure looking great, make sure to use a base coat and apply thin, even coats of polish.
No matter how long it takes for the Sally Hansen Miracle gel nail polish to dry, there are other ways to speed up the process. Find the best process that's right for you to dry your mani to keep it looking amazing.