The beauty world has been struck with creative-looking nail art that has left us awwing and wowing. One typical style in trendy nail art is the combination of colors.
Nail trends have moved from simple mono colors to multiple color blends and combinations. The color blends you thought impossible to agree with produced stunning nail designs.
If you are looking at blending the best colors for your nails, then you are in luck because that's the purpose of this article.
10 Cute 3 Color Combinations for Your Nails
Here is my list of the ten best color combinations for your nails. With these color combos, you can switch from classy and sophisticated to playful chic.
1. Blush, Coffee Brown, and White
Think of playing with colors on your nails; think blush, coffee brown, and white. This color combo might bring to mind the creamy color and look of your favorite coffee or cappuccino drink. Imagine how sweet your nails would look. You can play up this nail design in different ways. Remember to use white in small quantities as little dots or tiny strips.
2. Purple, Neon, and Yellow
Rocking a combo of purple, neon, and yellow will give that vibrant electric vibe to your nails. Your nails are sure to get all the attention with such colors. You can use these colors as wavy stripes alternatively for that wow look. Additionally, you can choose to wear these colors, alternating them with each finger to give a classy pastel look.
3. Green, Orange, and Yellow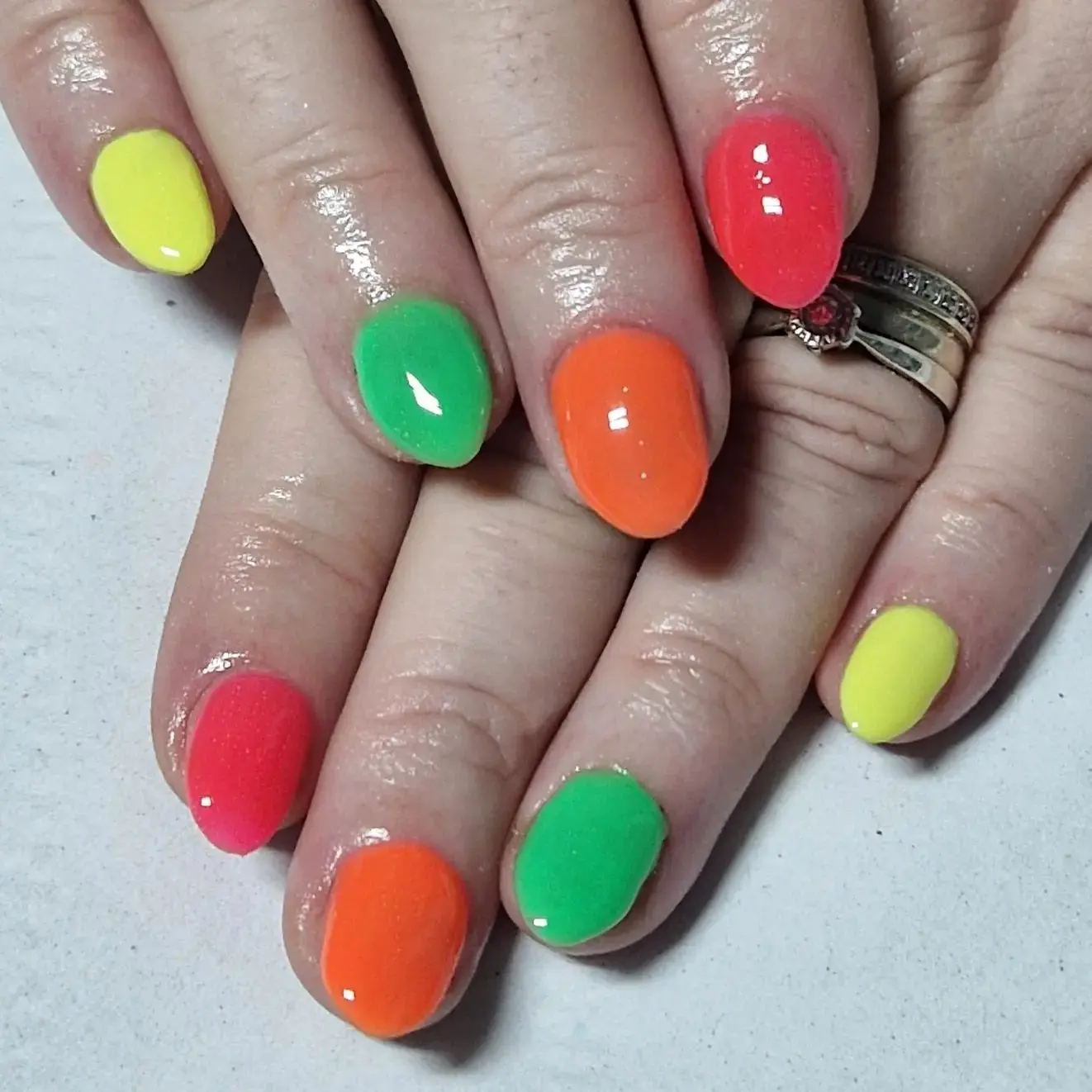 Blend these fruity colors on your nails for that fresh nail look. How you choose to blend these colors is entirely up to you. For example, you can polish most of your nails with green and blend the orange and yellow in smaller patterns.
4. Pink, Marigold, and White
Contrasting colors like pink, marigold, and white would bring some bold definition to your nails. Ensure you choose a hot pink shade, as it contrasts the marigold and white colors.
5. Teal, Lavender, and Gold
These are one of the colors that your mind may quickly not wrap around. But blending teal green with lavender and some dashing gold is a rich look for your nails.
6. Powder Blue, Fuschia, and White
Setting your nails in colors like blue and pink makes your nails attractive. The color shade matters as powder blue isn't a deep blue color, and it matches the deep fuschia pink. For the third color blend, throw in some white.
7. Black, Pink, And Olive Green
Nail art colors can range from pitch black to bright or dusty pink, each color marking its presence. Blending blank with pink and olive green is a colorful mix. The black color balances out the pink color and olive green shades.
8. Amethyst, Nude, and Pink
Amethyst, Nude, and Pink are excellent color blends. The rich dark color of the amethyst balances with the nude and pink. However you choose to style these color combos is up to you, as your creativity is all that's needed.
9. White, Orange, and Blue
Are you looking for something for that open outdoor event? Yeah! This color combo will light up your look. White, orange and blue are lovely colors that speak of warmth, class, and some play! Seeing these combos on your nails will set you in the play mood for that outdoor event.
10. Black, Silver, and Yellow
This color combo is a great option when pairing your nail colors side by side. For example, you can do half of the nail with black and the other half silver. Then where the line meets, you use the yellow polish as a straight dividing line in the middle. This would come out great as long as it is a quality nail polish that's used.
Conclusion
Nail art allows you to break the rules and make your own. You are your judge when blending these colors. An additional tip is you can always mismatch these colors or apply them in gradient patterns or graphics patterns for that unique look.