One of the greatest manicures to ever grace the fashion world, the french manicure has stood the test of time. It has become such a standard, that one wonders if there was ever a time it didn't exist.
If we had to crown one beauty trend as a forever fan favourite, it would be the french manicure. It has been popularized by celebs, making it relevant to this day.
In this article, I'll be discussing all french manicures: how they originated, how to make them, and a few different styles you can rock.
What is a French Manicure?
French manicure is a style of manicure that is so elegant in its simplicity. A classic Frenchie is usually done by painting the tips of your nail white while the body is coated in a simple, natural-looking color.
Now, there are different styles with which one can rock this beautiful manicure. More will come on this later.
Origin of French Manicure
Have you ever wondered, like me, if french nails originated in France? I thought that was the case, but it isn't very clear what the origin is.
While it's not exactly known when the french manicure was introduced, the style was already very popular early in the 20th century.
What I can tell you, is that it has roots in Hollywood. Jeff Orly, the founder of Orly nail polish, coined and popularized the term "French Manicure" in the 1970s.
He credited this look to Max Factor, the man believed to have created this manicure for fashion-forward women in Paris back in the 1930s.
The style caught the attention of American fashion designers, leading to its use among popular actresses. Now, the technique has spread all over the United States and all over the world.
It has become a standard treatment at salons and people have taken it a step further, learning how to create this look in their homes.
What Does a French Manicure Look Like?
A traditional French manicure consists of a sheer, nude, or light pink base color painted on the nail bed, with a strip of white across the tip.
French manicure mimics the appearance of the natural nail while bringing out the contrast between the tip of the nail and the body for a subtle look.
French manicures are usually created using simple colors that match your skin, so you don't have to worry about your nails clashing with your outfit and ruining your day.
A french manicure can be used for any occasion; spanning day-to-day activities to special engagements or events.
How to Create French Manicure At Home
French manicures look stylish and are super easy to do even without the help of a professional. Here is how to create a classic french manicure.
1. Prepare Your Nails
If you have old polish on, clean it off using a nail polish remover and a cotton swab. Acetone is harmful to the nails, so consider using some non-acetone nail polish remover.
Wash your hands with some soap to remove any oil and dirt, then trim and file your nails to a shape and length of your preference.
Lastly, push back your cuticles and buff the surface of your nails to remove any remaining oil or shine on them.
2. Apply Base Coat
Paint a layer of a clear base coat from the cuticle to the tip of the nail. This step is important because the base coat will help to preserve the manicure for longer.
3. Paint a Sheer Pink Color on The Nail
Most french manis are done with a light, pastel pink shade but you can use a sheer cream color if you'd like. Whatever you decide to use, paint the color evenly across the surface of your nail.
4. Paint the Tip
If your hands are not very steady, rest the one being painted on a flat surface, then paint a white line across the tips of your nails.
Start from one side and slowly curve the brush, creating a nice crescent-shaped line.
5. Add Top Coat
Clean up polish at the sides of the nail to neaten the look, then apply a thin layer on your newly beautified nails, covering them from cuticle to tip.
A top coat of good quality will protect the shine of your manicure and make it last longer.
You can buy a french manicure kit that comes with all the colors, coats, and pieces of equipment needed to succeed.
Variations of French Manicure
New takes on this viral manicure have emerged and nail technicians are now going crazy with all the new designs.
1. Color Block French Manicure
This one is a lot like the original, with a straight, clear demarcation between the nail base and the tip. The difference is the different colors at the tip.
A thick block of color is used at the tip instead of the regular white.
2. Rainbow French Manicure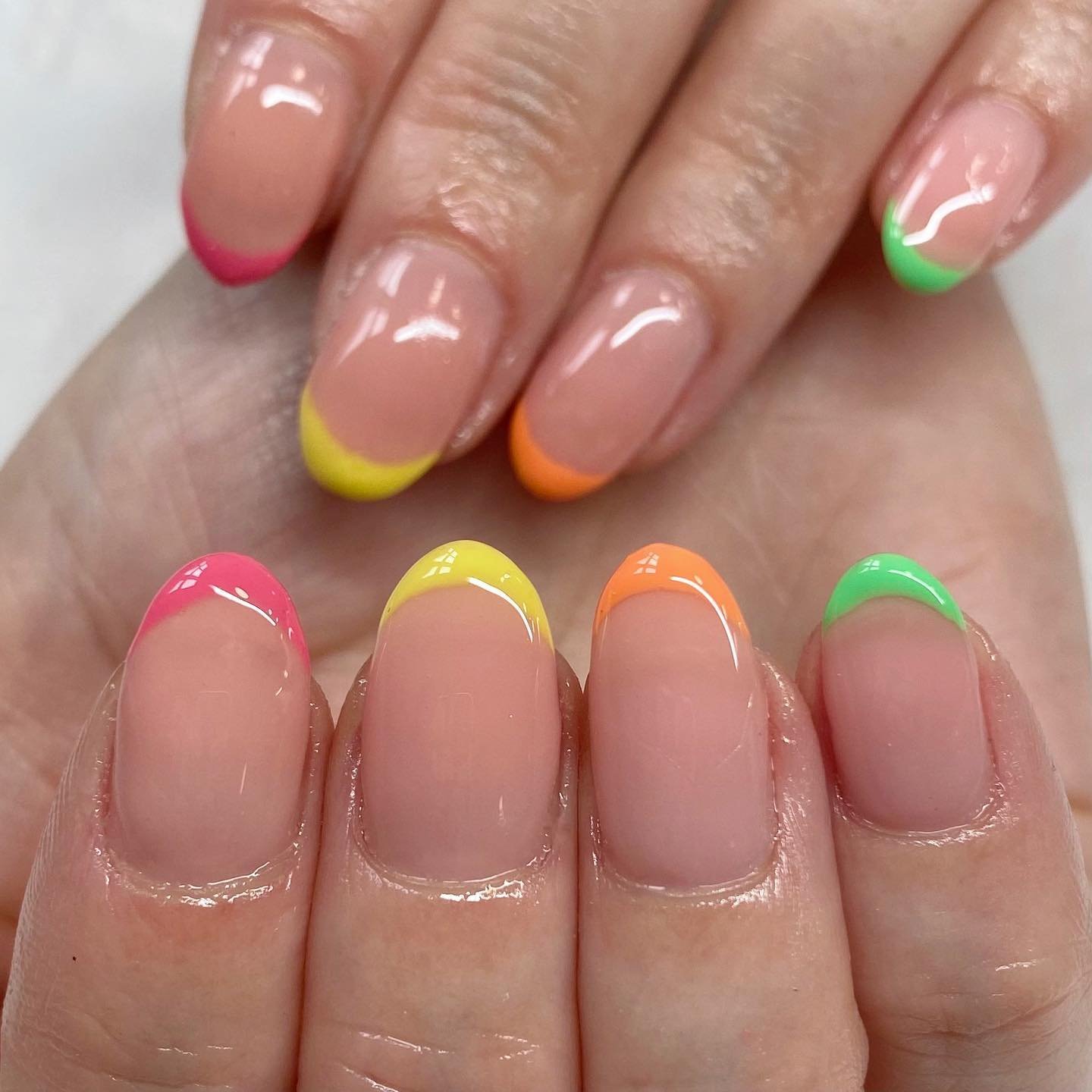 I'm sure you can guess what's going on here from the name. Instead of the old white at the tip, a delightful rainbow is painted on.
3. Chrome French Manicure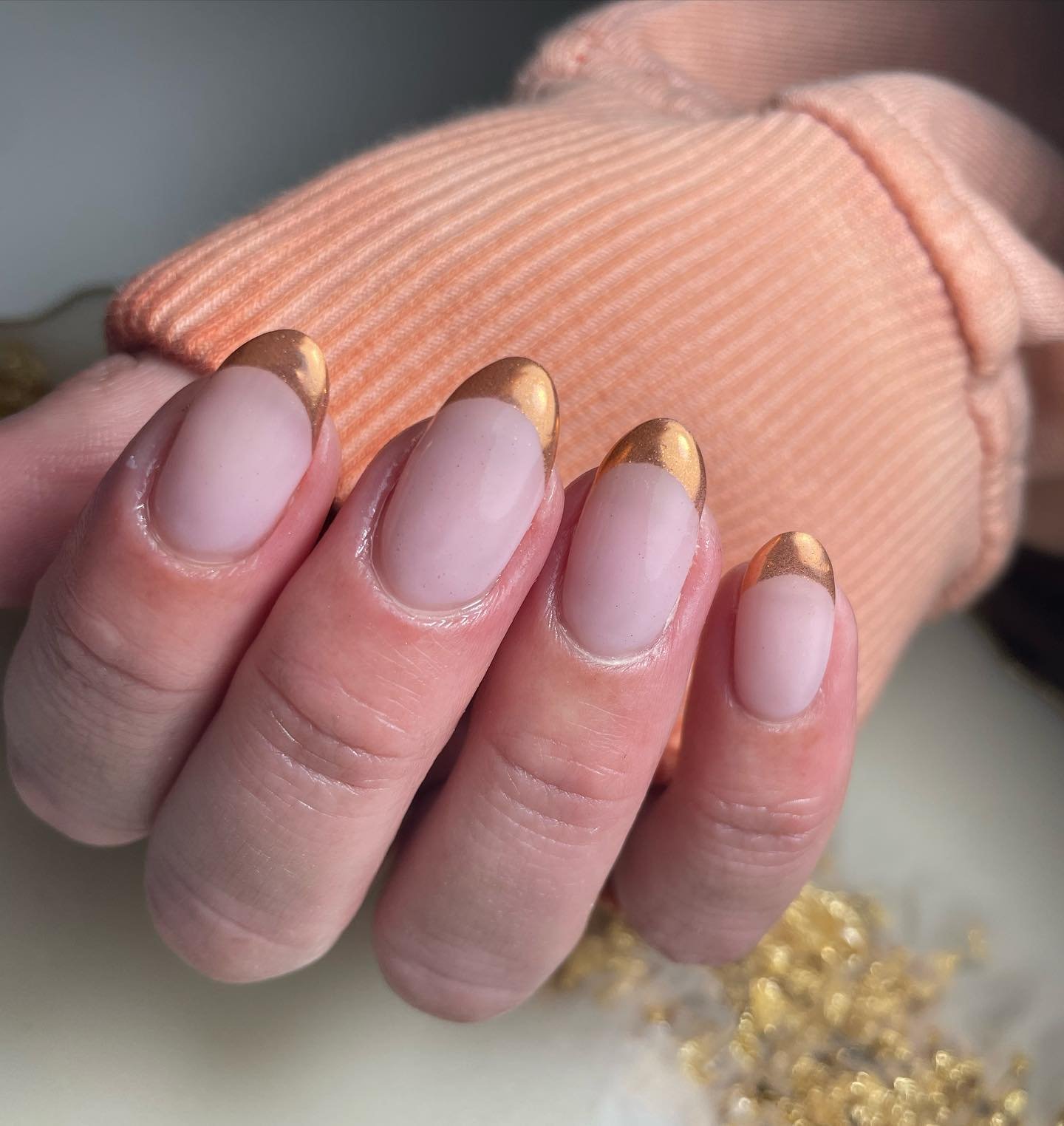 Chrome nails on their own are having their moment, so it makes sense that they would work so well with french manicures.
4. V-Shape French Manicure
Instead of the usual straight swipe at the tip, a spin has been put on the french manicure to create two lines that cross in the middle to create a V.
This tip can be painted white or in other colors.
5. Neon French Manicure
The tips are spiced up with neon colors instead of white. Using multiple colors is a sure way to make this Frenchie style stand out.
6. Floral French Manicure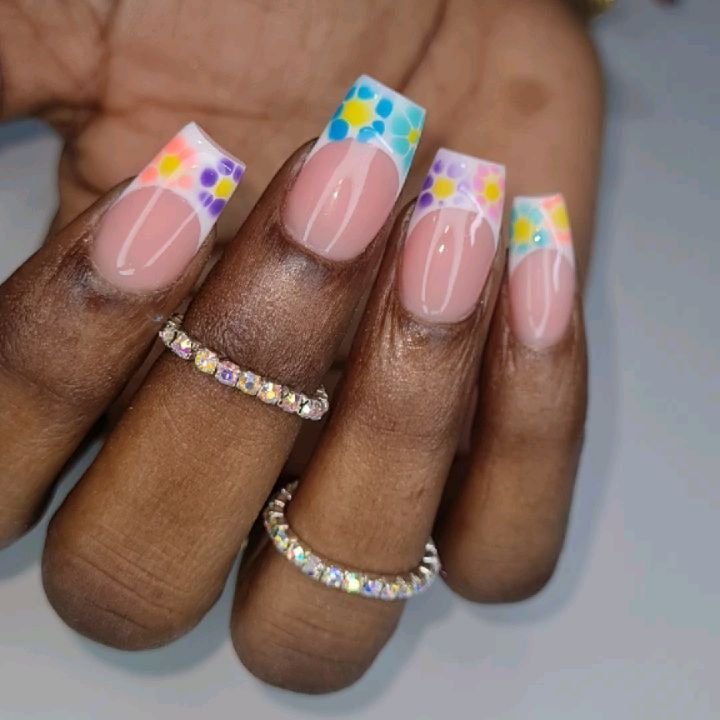 This is a great way to carry spring along with you all the time. The floral designs are concentrated to just the edges for a seemingly effortless look.
7. Mixed Swirls French Manicure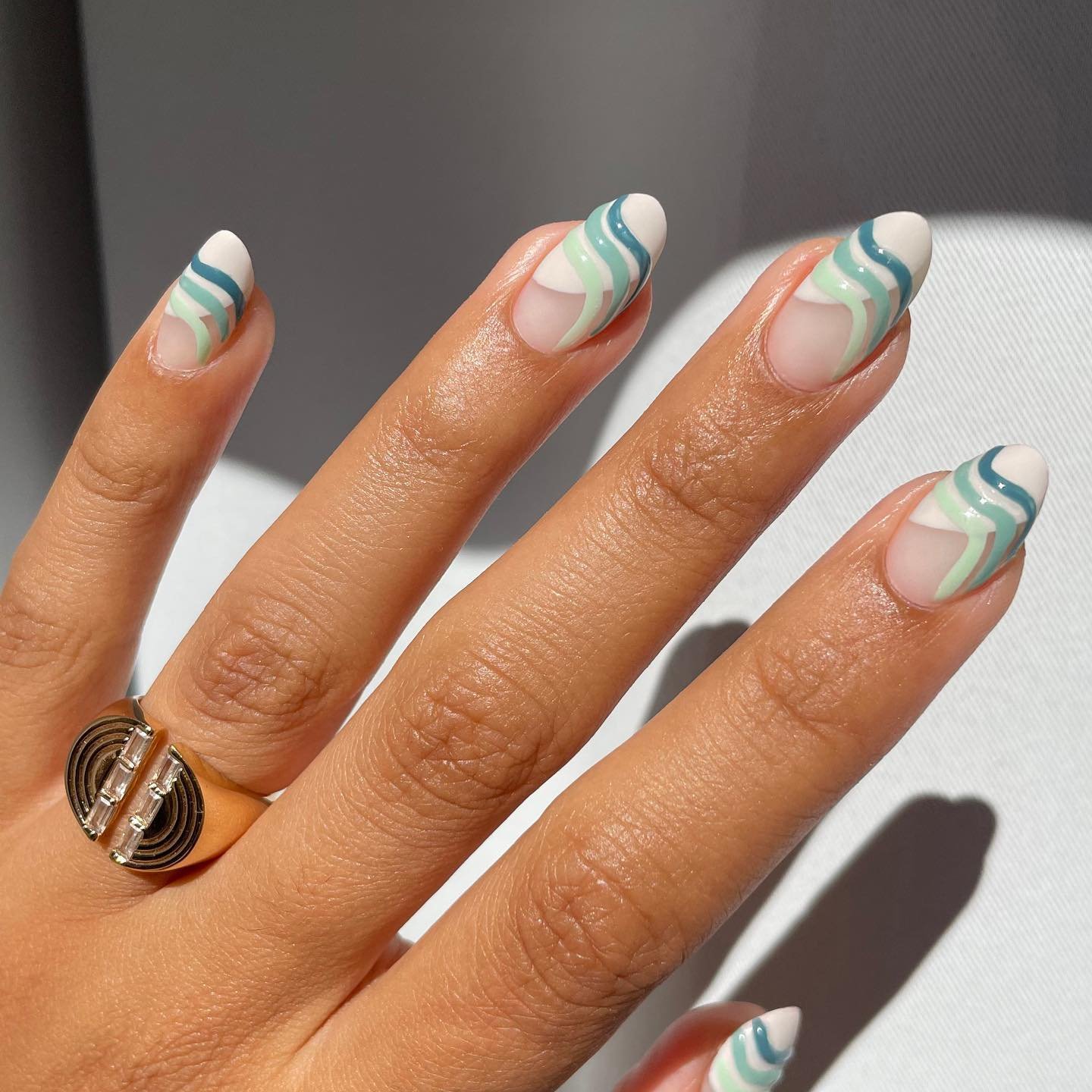 Multicolored swirls are painted onto the tip of the nail which gives off a retro vibe. This look will take off with any color combination you use.
8. Checkered French Manicure
I'm sure you agree with me when I say checkered nails are a hit in the nail industry. So, why not incorporate this big look into those tips?
9. Reverse French Manicure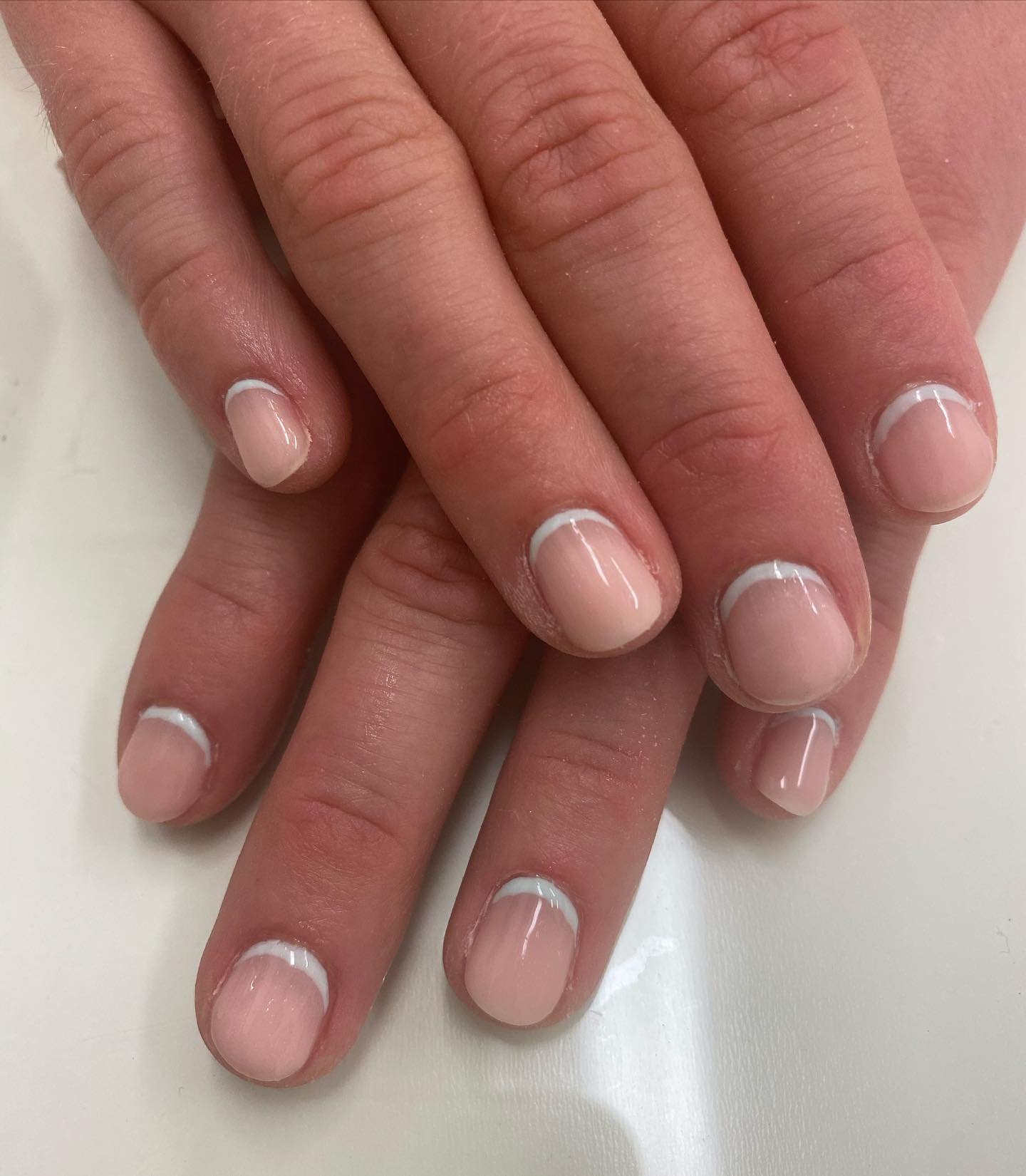 This look will see your cuticles lined instead of the tips of your nails. It is a fun, understated twist to this manicure.
10. Double French Manicure
Do you know what's better than one? Two. This french manicure sees two lines painted at the tips. There might be some space between them or they are put closely together.
However you decide to wear it, the fact remains that french manicures are not going anywhere for a long time. Have fun, be creative, and as always, look stunning.
French Manicure FAQs
What does a french manicure include?
A french manicure is done by switching up a basic manicure, applying a sheer pink or beige tone and a white tip on each nail.
What shape is best for a french manicure?
Although french manicures look great for any type of nail shape and length, mid-length almond and short square shapes are the best looks for french tips.
Does a French manicure look natural?
French manicures mimic the look of the natural nail, while featuring a white tip to accentuate the different colors between the tip and body of your natural nail. This is what affords them their clean and classic look.